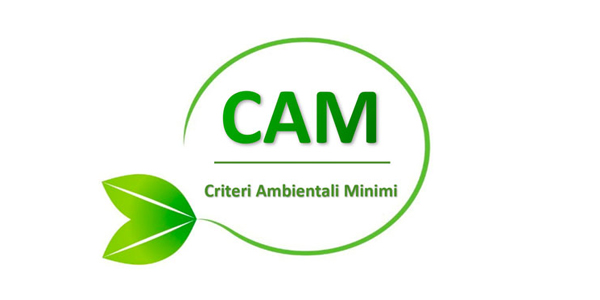 CAM – CRITERI AMBIENTALI MINIMI
The "Criteri Ambientali Minimi "(CAM) are the environmental requirements defined by the Italian Ministry of the Environment for the purchase of products or services by the public administration.
The CAM are defined in the official plan for the environmental sustainability of consumption in the public administration sector and are adopted with a Decree of the Ministry of the Environment.
In Italy, the effectiveness of the CAMs has been ensured thanks to art. 18 of Law 221/2015 and, subsequently, in art. 34 containing "Energy and environmental sustainability criteria" of Legislative Decree 50/2016 50/2016 "Procurement Code" (amended by Legislative Decree 56/2017), which made its application mandatory for all contractors.
To date, CAMs have been adopted for 18 categories of supplies and contracts.
Is there a CAM certification?
The answer is no, there is no CAM certification, but in certain cases certifications are required (e.g., FSC or PEFC, ISO 14001, …) in order to qualify for CAM certification so that the public administration is able to choose the most "virtuous" supplier.
The company, based on the sector and the product, can find the corresponding CAM on the website of the Ministry of the Environment and choose the relevant standard for which to request qualification.
Vireo is able to offer a number of certifications required to meet the CAM standards.
For more information, feel free to contact us.