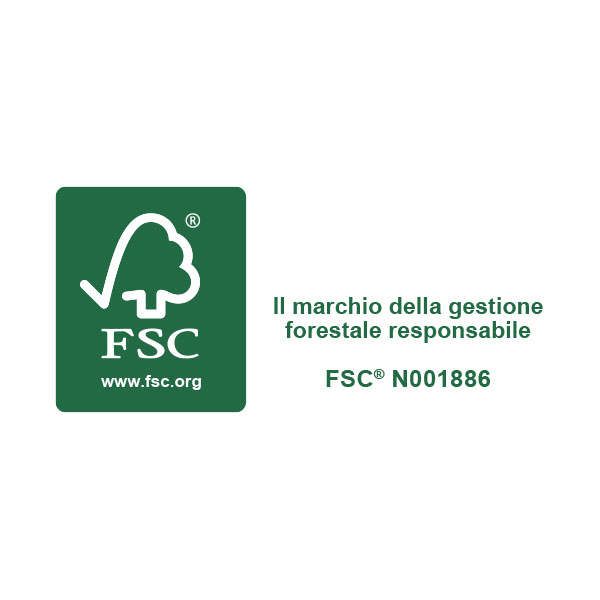 The Forest Stewardship Council® (FSC®) is an international l independent and non-profit organization which aims to promote the good management of forest resources. This goal is promoted through the creation of credible standards recognized by in the industrial, environmental and social realms.
Some of the best-known names in the environmental and production fields support the FSC, including environmental organizations such as Greenpeace and WWF as well as companies such as: and WWF as well as companies such as Tetra Pak®, Tembec, Suzano, Stora Enso, SCA, Sappi, IKEA, Hewlett-Packard Company (HP), CEPI (Belgium), B&Q (UK), ASDI and Auraco.
The FSC standards provide for the certification of the forests of origin (Forest Management, FM), and of the companies that transform the base wood material into wood or paper products (Chain of Custody, COC).
The FSC brand identifies products made with raw materials deriving from ethically managed forests or plantations according to the principles and criteria of the two main standards:
FSC® Certification: : certification code FSC-N001886
Delivering FSC certification services in association with Interface NRM..
FSC Chain of Custody certification
The chain of custody (Chain of Custody, CoC) is a mechanism that ensures the traceability of materials from FSC certified forests, through all the production, processing and commercial stages, up to the creation of the finished product. Each link in this imaginary chain is independently checked by the certification body. This control system guarantees the final consumer that the products bearing the FSC brand actually come from forests which are managed ethically and responsibly.
FSC has established, through a series of standards, what mechanisms companies must put in place to meet the requirements that guarantee traceability of all materials. FSC standards are subject to periodic reviews that ensure continuous improvement.
Which businesses need certification?
FSC certification is on a voluntary basis. Anyone who wants to sell material as FSC certified should be in possession of the Chain of Custody certification.
The FSC logo (a stylized tree with FSC written underneath it), the wording Forest Stewardship Council® and the acronym FSC are protected by copyright and subject to protection legislation.
How can a company obtain certification?
Firstly, the company must independently prepare the documents and procedures necessary to meet the requirements of the Chain of Custody standard. Subsequently, the certification body carries out an audit at the company, to verify that the procedures implemented meet the requirements of the standard. If the audit is passed, the company obtains a FSC certificate, valid for 5 years. In order for the certificate to remain valid, the certification body conducts, for the entire duration of the certificate, periodic audits to ensure the company complies with the FSC standards.
For more detailed information and to request a quote, contact us through the Contacts page.
What should a company do if it realizes that its certificate has expired?
If a company realizes that its certificate has expired, they can contact us to request a quote for the renewal of the certification.
Vireo will manage all the necessary documentation as soon as possible and plan the audit with the highest priority.
Call us without obligation to get more information!
Delivering FSC certification services in association with Interface NRM.

PROCEDURE FOR FSC/PEFC APPEALS AND REPORTS
Questa procedura descrive le modalità per la risoluzione di dispute e conflitti di Vireo, nel caso di certificazione FSC/PEFC. La procedura allegata è disponibile nella lingua locale di tutti i paesi in cui operiamo.

RULES FOR THE USE OF PEFC TRADEMARKS.
Questo documento in Italiano descrive i requisiti per il corretto uso dei marchi PEFC.

PEFC CHAIN OF CUSTODY STANDARD ITA 1002-2020
The PEFC Chain of Custody standard, PEFC STD 2002:2020, officially came into effect on February 14, 2020.

NEW STANDARD FOR THE USE OF FSC TRADEMARKS: FSC-STD-50-001, V2-1
On October 1, 2021, the new standard for the use of FSC trademarks was published: FSC-STD-50-001, V2-1. The document can be used as of January 1, 2022. The transition period from the previous standard will end on June 30, 2024.

NEW CHAIN OF CUSTODY STANDARD FSC-STD-40-004 V3.1
On Feb. 2, 2021, the new chain-of-custody standard for FSC certification (FSC-STD 40-004, v3.1) was published, effective Sept. 1, 2021.

The Certification guidance document provides a description of the main aspects of the certification process.The attached document contains the certification contracts according to the FSC® and PEFCTM standards and lists the rights and obligations of certificate holders according to these standards.

The balance on the working relationship that has now existed for several years between Cartiera del Chiese SPA and Vireo is definitely positive. Witness to this is the fact that in addition to product certifications such as FSC, PEFC and Blue Angel, in 2016 we also relied on Vireo for ISO 14001/2015 certification. For Cartiera del Chiese, which is located in an environmentally difficult context, it was of paramount importance to obtain a Certified Environmental Management System that is recognized by all the controlling bodies such as the Municipality, Arpa and the Province. We certainly have to acknowledge Vireo, in addition to the professionalism and competence in conducting inspection visits, the timely willingness of the staff to pick up the issues that a structured and articulated company like ours often has.

For us at Officine Grafiche, adhering to FSC® Certification means making a choice of responsibility and sharing ethical values. It means giving a concrete sign of one's contribution to the growth of a "sustainable" entrepreneurship in which every stakeholder in the supply chain can contribute to the preservation of our planet's resources. Achieving FSC® Certification has positively impacted brand image because it identifies Officine Grafiche and our customers who choose FSC® certified materials as "green" inspired, environmentally conscious companies in the interest of the community.

Since 2011, Studio 83 Graphic Arts has been FSC certified with Vireo!

We have always looked for experience and reliability in our partners, but fundamental for us is also the sharing and alignment with our corporate philosophy, characteristics that we have positively found in every collaboration with Vireo, initially for FSC® certification and now also for ISO9001 certification.

We met Vireo in 2010 with FSC Certification in 2010. We always got along very well over the years. Since 2016 in order to have a single point of contact, we have also switched with your institution for ISO 9001 Certification. So far we have never had any problems and have always been comfortable!

We were looking for a certifying body in tune with our style characterized by constructive participation and growth in education and awareness, so that certifications are attestations of improvement processes, useful to all stakeholders in the work and social contexts of the enterprise. We chose Vireo and found the partner we were looking for, who added promptness, simplicity, rapidity in the professional relationship to expertise.

Headu cares about the environment and wants to make a concrete contribution to the preservation of natural resources for future generations. That is why ours is an FSC-certified company. We achieved this through collaboration with Vireo, an entity that supported us during the initial process and still supports us competently, effectively, and quickly. An ideal partner for our company.

We are very pleased to have met the Vireo company on our way. Vireo staff have always been very helpful, kind, and knowledgeable for any clarification, doubt, or difficulty encountered throughout the years. This resulted in a feeling of protection and tranquility that, nowadays, is not easy to experience.

We started working with Vireo about ten years ago, acquiring FSC and PEFC certifications. The professionalism and seriousness of the staff have always proven to be a guarantee of reliability and competence, in every situation.

We found in Vireo a reliable and professionally trained partner!