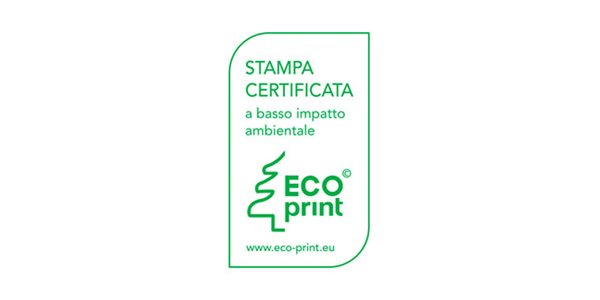 Eco-print© is one of the first certifications of a low environmental impact printing process. It aims to offer guidelines for printing companies that want to reduce the impact of their printing products on the environment, providing a clear and verifiable standard. Companies in the graphics sector, technical experts and environmental groups were involved in the consultation process when this standard was drafted.
The Eco-print Standard considers the entire production cycle starting from the raw materials used such as paper and inks, to the actual printing, up to the finishing and packaging and transport of the finished product.
The certification is divided into sections comprising:
an environmental performance benchmark for the production site, which considers the use of renewable energies, other environmental and energy saving certifications, compliance with legislation and waste management;
a product certification, which must be printed on certified paper, without the use of chemical development for the creation of offset printing plates, with controlled printing additives, using vegetable-based, wax-based or water-based inks.
The verification of the certification requirements by an independent body is an added value that allows printers to credibly demonstrate their environmental commitment. Using a specific logo allows you to communicate your sustainability to all customers through your certified prints.
Vireo participated in the drafting of the standard and is the body in charge of the audits to verify the certification requirements.
For more information and to request the Eco-print standard, you can write [email protected] and visit the website http://www.eco-print.eu/.

STANDARD ECO-PRINT (VERSION 2)
This document describes the requirements that each company must apply in order to obtain the Eco-Print certification.

RULES FOR THE USE OF ECO-PRINT© LOGOS.
This document in Italian describes the requirements for the proper use of Eco-Print logos.

We were looking for a certifying body in tune with our style characterized by constructive participation and growth in education and awareness, so that certifications are attestations of improvement processes, useful to all stakeholders in the work and social contexts of the enterprise. We chose Vireo and found the partner we were looking for, who added promptness, simplicity, rapidity in the professional relationship to expertise.